Soap star Delia brings kids 'Hope'
New York Daily News, December 18, 1987
by Bill Bell
She walks into the Prince George Hotel on E. 28th St. hear Fifth Ave., where about 1,3000 welfare kids live, and the place goes bananas. "Delia!" kids are crying out. "Hey, it's Delia!"
Ilene Kristen waves and smiles. "What else is she going to do?" says Herman Bagley, an executive of the Children's Aid Society, which oversees a variety of programs there. "She's a star."
That she is, as Delia Reid Ryan Ryan Coleridge Crane, for years, the campy, bitchy lead in the daytime TV soap, "Ryan's Hope." At the Prince George, though, Ilene Kristen plays strictly a supporting role. She is a volunteer worker who wants to teach the kids to act, dance, sing and make music.
"It was one of those crazy things," she said the other night at a party to collect musical instruments and Christmas toys for the kids. "I'm not sure I ever saw the Prince George until last July 15."
That was the day she was riding past in a taxi. It stopped in traffic long enough for her to notice dozens of kids at the window - "just staring out into space."
"I wasn't sorry for them," she says. "I didn't pity them. But I was so angry at the way they lived. Angry at who, or what, I don't know."
On an impulse, she ordered the driver to stop. "These people will know me from the soap," she told him. "They won't hurt me. I just want to tell them that I'm with them."
The driver, she says, didn't know her from Eve, told her it was too dangerous and advised her not to get involved. She agreed, but not for long.
Two days later, she called Leslie Lannon, who was director of homeless programs for the Children's Aid Society. Kristen said that she wanted to do a fund-raiser for the kids at the Prince George.
"I had decided I was meant to save one kid," says Kristen, who has never been married.
The benefit, a brunch at La Maganette, featured tours of the "Ryan's Hope" set, autographed pictures, and other momentos as come-ons. "I took the money that we collected to the hotel," Kristen says, "and the next thing I knew, I had volunteered."
Bagley, who goes to the Prince George every day, showed her around and at every stop, jaws dropped, eyes lit up and there were shouts of recognition. "The people here watch TV all day, that's all they do," Bagley says, "and there isn't a soap they don't know."
Even now, after about five months, people stop her for autographs and to quiz her about the plot and other characters. "It's okay," she says. "To me, it's part of reaching out to make contact."
There is a lot of reaching out to do. The hotel is a dilapidated turn-of-the-century eyesore, where the homeless - or the "undomiciled," in official jargon - are housed at a cost to taxpayers of $1,5000 to $2,000 per room per month. It has problems Kristen never dreamed of when she was growing up in the Flatbush section of Brooklyn in the '50s - crime, drugs, fires, aimlessness and squalor.
Kristen works amid it all for five hours every Saturday, starting at 1 p.m., and fits in a few more hours two days a week, usually on Tuesdays and Thursdays. She already has part of her arts and fitness program in place.
"There's a gymnastics class," she says. "It meets in a hallway on the second floor. There's an art class, which (actor) Larry Watson teaches. We're just getting started with a music class, which Orvye Gordon, who is the director of a church choir in Harlem, will teach."
She also does some drama work with several kids. One of them is Antoine Robinson, a lively 12-year-old who says that he intends to become an actor. Someone asks why and he points at Kristen. "Because she's one," he says. Classes are small, she says, because most kids haven't received any encouragement from the parents - usually the mothers only - who live at the hotel.
"I heard one boy playing a few notes on a piano," she says. "I said, 'Hey, you're very musical.' He said, in the saddest little voice, 'You're the only person ever told me that.'"
The musical instrument drive is coming along nicely. There were a couple dozen donated at the party, at Mikell's, on Columbus Ave. and 97th. St. Among them were an entire rhythm section - organs, drums, guitar and bass - donated by rocker Niles Rodgers and two associates.
"Now," she says, "what we need is a place to keep them and a place to play them."
People are always asking why she does it. "It's not because I'm one of those goody-goodies," she said. "I'm not sure I know why."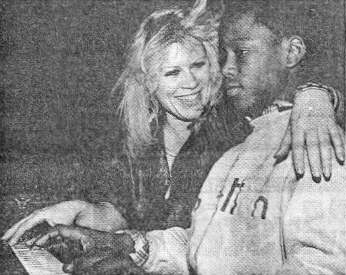 ACTRESS ILENE KRISTEN (Delia on TV's "Ryan's
Hope") shares a few notes with Antoine Robinson, 12,
during party with kids from the Prince George Hotel,
where city houses welfare families.