One Life to Lose?
New York Daily News, January 20, 2002
by Carolyn Hinsey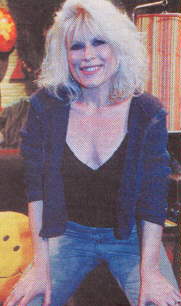 There's a boozy new floozy in town on "One Life to Live," and this week she'll fake an illness to scam money out of her own daughter. "Even though Roxie horrifies Jess, she really thinks she genuinely cares about her," marvels Ilene Kristen of her rotten alter ego, Roxie, and Roxie's innocent daughter, Jessica. "Most people would think that deep down inside Roxie does care about Jess, but she doesn't. Right now, all Roxie cares about is her own good time."
Which she can't have, because Roxie is broke.
Since learning that her biological daughter was adopted by the wealthy Buchanans, Roxie and her partner in crime, Allison, have tried every trick in the book to make the connection pay off, to no avail - which is why Roxie will suddenly develop a hacking cough this week.
"I have no idea what this illness is supposed to be," insists Kristen. "Allison has cooked this thing up. She shows Roxie what illness she's supposed to have in a medical book, and I just say, 'Oh my God!' Roxie has to act out these ridiculous symptoms of coughing and general dizziness and groping onto furniture. They're writing it great, but I embellish a little."
Roxie makes sure that Jessica is in full view of her performance. "Roxie brings this baby blanket to Jessica, saying, 'I bought it for you when you were a baby,'" Kristen says, laughing. "It's a fake. She tells Allison, 'The kid fell for it, she's a sucker. It cost $12.99. It's amazing what you can do with scissors, dye, bleach, and a little dirt.'"
In the weeks to come, Jessica's concern for her biological mother will prompt her to consult doctors and probably pitch in financially. "Allison keeps directing her, and Roxie, like the good dog that she is, obeys," says Kristen. "Whatever is going to put Roxie on easy street is fine with her, and if that's Jessica, then too bad for her."
With Roxie's life in "jeopardy," the plan is to hit Jessica up for her expensive "medical bills." "I just hope it doesn't turn out to be cancer," quips Kristen. "I'm having a blast with this job!"
Hinsey is executive editor of Soap Opera Digest.