Still Delia After All These Years:
Even away from Ryan's Bar, funny lady Ilene Kristen is plumb intoxicating
Soaps in Depth, 2000
Ilene Kristen has mixed feelings about SoapNet's recent resurrection of RYAN'S HOPE. On one hand, yes, the show made her famous as delightfully ditzy, much-married social climber Delia Reid. But on the other... "It's weird looking at stuff from 25 years ago," she muses. "[At least] people will see how handcrafted the show was."
Having played Dee off and on from 1975 until RH's '89 cancellation, Kristen still gets recognized by fellow New Yorkers. "I get stopped five times a day sometimes!" she admits, adding that she's nothing like Delia. "She was a lot smarter than I was - she'd always figure out how to get things done, how to get men. She was fierce and crafty."
Theater, Movies, Music...
The real-life funny lady is a lot more grounded than her "confused, frenetic, and troubled" counterpart. And the single gal has more interests than you could shake a stick at! In fact, for most of the last decade, the ONE LIFE TO LIVE vet has focused her attention beyond daytime. In addition to serving on the board of directors of the Ensemble Studio Theater, in 1997, the Renaissance woman worked as an associate producer on the indie Everything's George, starring a computer-generated George Burns. And she adds, "I've always had my own band - I did a lot of R&B. I sing, but I also write music and lyrics."
Plus, Kristen has been busy recording the score to Little Lord Fauntleroy, a musical that a friend is preparing to produce in England.
An Actress You Can't Refuse
However, even with everything that has been going on, Kristen would consider a soap return. "My goal has always been to end up on a nighttime comedy," admits the one-time guest of THE SOPRANOS. "But that hasn't happened yet, so I'm very open. I'm a gun for hire!
"I'm in a great place," she adds. "I have a lot of energy and vitality and humor. So it would be interesting for me to do that."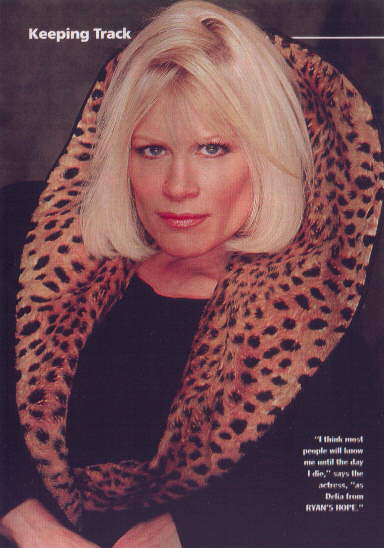 "I think most people will known me until the day I die," says
the actress, "as Delia from RYAN'S HOPE."
"Delia became very
comedic in RH's last
four years," recalls
Kristen, in '87 with
co-stars Ron Hale
(Roger; Mike,
GENERAL HOSPITAL)
and Cali Timmins
(Maggie).