At Home: A Work of Art
Soaps in Depth, August 31, 2004
Photographs by Robert Milazzo

For Ilene Kristen (Roxy), home is where the art is

In a two-bedroom apartment on New York's West Side, ONE LIFE TO LIVE's Ilene Kristen (Roxy) let Soaps in Depth take readers on a tour of her humble abode. "I have lived here since dinosaurs roamed," she says with a laugh. Actually, Kristen first moved into the space in 1977 and purchased it in 1985. "I grew up in this neighborhood and I've seen it change and evolve. It's been an interesting time here," she reveals. "This neighborhood I love. You're in between two parks, you're near subway stations, you've got trees, light, the best food shopping in the city - it's a great neighborhood!" In fact, Kristen loves the area so much, she convinced co-star Tuc Watkins (David) to move into the apartment upstairs from her!"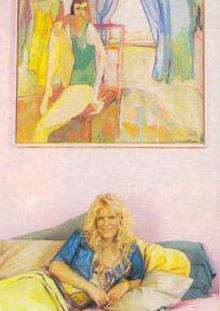 Bedroom: Kristen's green, blue and lavender bedroom is a serene refuge from the buzzing city outside her window. "This is the area that I am in the most," Kristen reveals about the room. "I like pastel colors and colors that are a little off center. I just found this green sheet the other day. I never saw a sheet quite this color. I don't like primary colors at all. The chance of seeing red in this apartment is slim to none. I go looking for colors that are off, and I always find whatever I'm looking for." Unfortunately, Kristen confesses that relaxing in her boudoir leads to a lax attitude toward neatness. "This is the area that I mess up and clean up more in one day than I do anything else in my life. I am not proud of this. I am so organizationally challenged in this area," she jokes.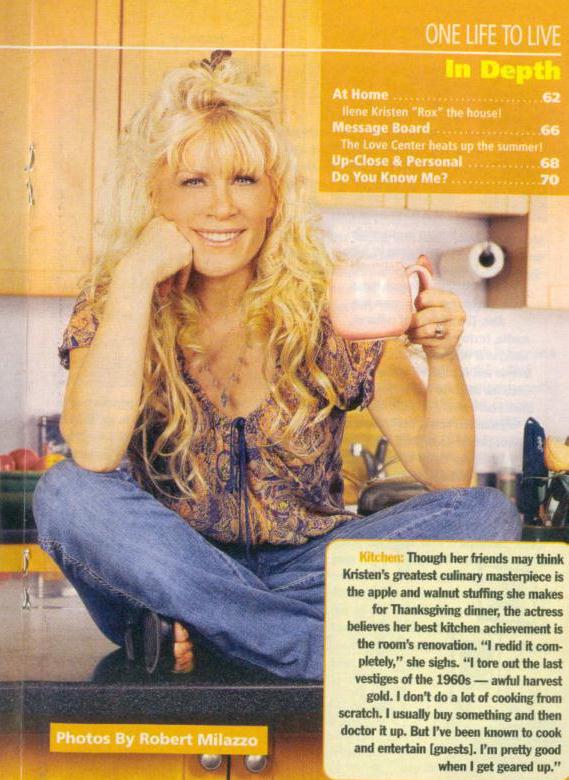 Kitchen: Though her friends may think Kristen's greatest culinary masterpiece is the apple and walnut stuffing she makes for Thanksgiving dinner, the actress believes her best kitchen achievement is the room's renovation. "I redid it completely," she sighs. "I tore out the last vestiges of the 1960s - awful harvest gold. I don't do a lot of cooking from scratch. I usually buy something and then doctor it up. But I've been known to cook and entertain [guests]. I'm pretty good when I get geared up."


| | |
| --- | --- |
| | |
Living Room: Kristen is especially proud of the work done by her nephew, Cinque Schatz (pictured above), including the piece hanging next to her living room window. The mixture of cultures, media, textures, and colors on her walls, and their connection to her friends and family, are just what the actress needs to feel at home. "I think I have a very eclectic sense," she reveals. "The juxtaposition of time periods and of objects and how art is influenced by nature interests me. I never adhere to any kind of principles of decorating at all. I've always made my own rules. I've done the same thing with acting. Throw in everything I know." Kristen's next home improvement project - building a terrace! "The hardest part would be the French doors," she worries.


Hallway: Walking into Kristen's home, visitors are greeted by walls of artwork and photography that chronicle the actress' life and love of art. "I've always wanted to highlight a lot of my friends' artwork." Two of the most breathtaking photos (far left) are very close to Kristen's heart. "One of my closest friends, Rebecca Cammisa, is a photojournalist and lived in Madagascar for a while shooting," Kristen explains. "Then she became a filmmaker. She is very talented, and I have a lot of her shots. She's an excellent photographer and filmmaker."


Piano: Besides acting, Kristen says that music is another creative outlet for her. "I've been playing for a long time," says the sultry-voiced singer. Thanks to the apartment's high ceilings, Kristen gets great acoustics when she belts out a tune. "I love the ceiling, but in the winter, it's so cold," the actress laments. Kristen's piano bears the evidence of her playing with music sheets from songwriters like Rickie Lee Jones and Laura Nyro. And for some inspiration, the top of the piano is lined with photos of her family and friends, including her grandparents' wedding in the 1920s.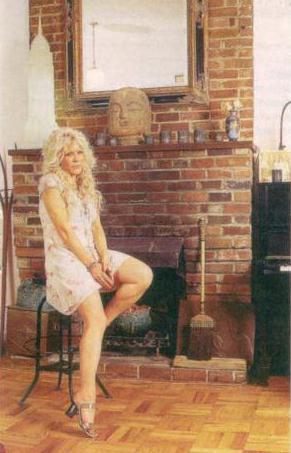 Fireplace: A trip to Kristen's living room is like a trip around the globe. With African, Oriental, and American accents on the walls and tables, the actress made her space a welcome mat for a variety of cultures. "There is in me [the belief] not that we are all the same but that we're all different. But we should be in wonderment of those differences," she explains. "The masks [on the wall] remind me that there's a whole world out there that is different. And if your life doesn't work here, you can find someplace else to make it work." Although the room reflects a worldview, the pieces were collected closer to home. "I got them in my travels around the corner," Kristen jokes. One of those trips even resulted in a clandestine purchase of the novelty lamp on her mantle. "It was a souvenir store, and it had only one of the Empire State Building lamps. I went back to get more, and the store had folded. It was like it just existed for me to buy the lamp!"