Getting Personal
Soap Center, February 1, 2002
Hosted by Peggy Bunker
(This aired on Soap Center, a weekly news show on SoapNet, which incidentally is the cable channel on which Ryan's Hope now airs in reruns and on which all of the current ABC soaps - including One Life to Live - are rebroadcast at night and on weekends.)
PB: One Life to Live's Roxy has created a lot of chaos for both of her daughters. She has been a mother from hell, but the role has been heavenly for actress Ilene Kristen.
(They show a clip from OLTL, of Jessica knocking on Roxy's door the day she came to meet her.)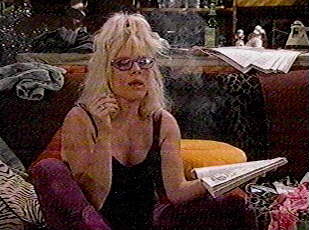 ROXY: The check's in the mail. Get lost!
(Ilene is shown speaking.)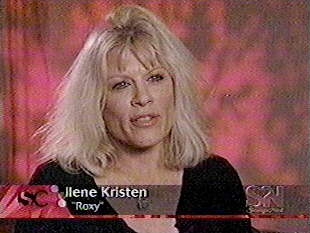 ILENE: I always wanted to create a character like this on television.
(A clip from the episode in which Roxy first descended upon Natalie at Llanfair is shown.)
ROXY: Honey, when you move to Easy Street, are you gonna miss me?
(They cut back to Ilene.)
ILENE: To have the opportunity to do this in-your-face kind of character has just been incredible.
(Executive Producer Gary Tomlin is shown speaking.)
GT: I've been an Ilene Kristen fan for many years, and we were so lucky...we're very lucky to have her.

(Ilene is shown speaking again.)
ILENE: I knew that they hired the right person. I just want to try to do that truthfully and not be pretty about it.
(Another clip from Roxy and Jessica's first meeting is shown.)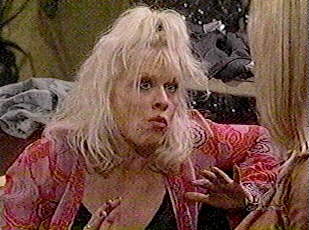 ROXY: Some women are really good at this motherhood racket, and some, like me, are not.
(Ilene is shown speaking again.)
ILENE: That was my goal, to just not be pretty about it, cause it's not pretty, and there are people like this.
(A clip of Roxy arguing with Viki is shown.)
ROXY: Spare me! I'm not exactly on the committee for "Mom of the Century."

(A clip of Roxy first arriving on the doorstep of Llanfair is shown, then Ilene speaks again.)
ILENE: I grew up in a home completely different than that, so it's really very interesting to experiment with this dysfunctional kind of mother. One of the reasons I never had kids not was that I ever thought that I'd be abusive to them - I just never thought that I'd really have the time to give a kid what they really needed 24/7, because I think that's what it takes. That's what my mother gave me.
PB: Although Ilene doesn't have any biological children, she has been a mother figure to one of the boys she met in 1987 while volunteering at a homeless shelter in New York.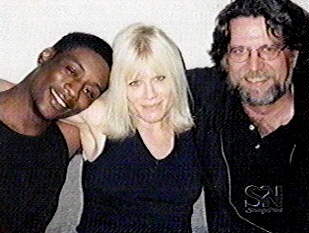 ILENE: Antoine is my spiritual son. I started off as a mentor toward him - little did I know that he would be calling me "Mom" for the last, probably, fifteen years. It was a very difficult time in the late '80s with the homeless situation. I really wanted to make a difference in one child's life.

(A clip of Antoine's appearance on Ryan's Hope is shown.)
DELIA: Okay, your name - don't tell me - Antoine, right?
ANTOINE: Right.


PB: Savvy soap fans will recognize Antoine from Ryan's Hope. After Ilene introduced him to the show's producers, they created a role just for the twelve year-old boy.
(Ilene speaks again.)
ILENE: I just never felt the need to have my own child. I just knew that my priority was my work as an actor, and as selfish as that may be, I knew that about myself, and it broke up some of my relationships that I had with men who wanted to have children, but I didn't feel that I could do it.

PB: One thing Ilene does do extremely well is portraying the abusive Roxy. It's a role that is generating a lot of attention.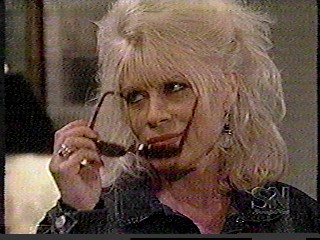 ILENE: I'd be very curious to see what people's reactions are, because my friend had a very overt reaction - he was almost mad at me. He said it pushed a lot of buttons. I said, "I'm sorry, but, I have to be true to what I know about this character, and she doesn't care, so, how was I, you know, how am I doing?"