The View From a Broad
Soap Opera Digest, March 19, 2002
by Randee Dawn
Once Beset By Ill Health And Ghosts Of Soaps Past, OLTL's Ilene Kristen Has Found A Place To Settle Down...And Raise Hell
Just the Facts
Birthday: July 30
Soap Resume: Delia, RYAN'S HOPE (1975-79; 1982-83; 1986-89); Georgina, OLTL (1982); Norma, LOVING (1990-91); Madeline, ANOTHER WORLD (1995)
Stars She'd Most Like to Meet: Oprah Winfrey, Luther Vandross and Patti LaBelle
Reading Material: Anonymity by Susan Bergman (sister of Anne Heche, ex-Vicky/Marley, AW); A Child Called It by David J. Pelzer. "I'm playing an abusive mother, so I wanted to read about cause and effect."
Herbal Remedy Recommendations: Calli tea. "It's stronger than any green tea on the market. If you don't take care of the body, the body will rust."
One of the most surprising things about ONE LIFE TO LIVE's Ilene Kristen (Roxanne) is this: She is tiny. Not just small in stature, but petite all over. This is important, because based on her on-screen personality (including an explosion of wild, white-blonde hair), Roxanne - and, by extension, Kristen - seems larger than life.
Which more accurately fits the lifetime's worth of stories, experiences, heartbreaks and exaltations she shares over lunch on Manhattan's Upper West Side. Kristen is a bridge across soap generations - long-time fans still love her as ditsy Delia from RYAN'S HOPE, a show she left 12 years ago that lives again on SoapNet, while new fans are adoring her as ditsy, drunk Roxanne on OLTL - the soap that threw her away in 1982.
Over her years in show business, Kristen (born Ilene Schatz (see sidebar), seems to have done it all: TV variety shows, Broadway, comedy troupes, music recordings, film. And woven throughout every other venture, large and small, has been her journey from soap to soap to soap.
Funny then, how she notes: "I never thought about doing soap operas. [Casting director] Shirley Rich knew me; that's the only way I got into [RYAN'S HOPE]. I wasn't happy about it. I was confused."
As well she should be. Her childhood and adolescence had been geared in one direction - dancing. "I was a beatnik," she grins. "I listened to jazz as a kid. I was into modern dance." Dance lessons at 8 led to a job at 14 in the chorus of a variety show called THE BELL TELEPHONE HOUR. By her senior year of high school, she was traveling with comedy revue troupe The Six New Happenings (yes, this was the '60s) who got bookings at Lake Tahoe's Sahara, but had one problem: "We were underage." They followed "a million-dollar act with showgirls with pasties on" and were replaced by Johnny Carson.
So much for the '60s. By early the next decade, Kristen was ready to slide into adult performances. But she had to ditch dancing. "I had no technical skills," she shrugs. "I have a great sense of rhythm, but ... I have an inner ear thing, so I had no balance. I never would have made it as a dancer even if I was 5-foot-6." Moreover, her thyroid stopped working. "I put on 25 pounds in two months. That put an end to dancing. Until they diagnosed it, it was horrible. It runs in my family. It was a total shock."
It didn't stop her from storming Broadway, however, and after one tanked show, she was tapped as sweet-and-sour cheerleader Patty Simcox for the original production of Grease, which opened on Valentine's Day, 1972. A young John Travolta (who would play Danny in the film version) ultimately stepped into the role of greaser Doody. Sighs Kristen, "My father saw the second preview and told my mother, 'Don't tell Ilene, but she's in another flop.'"
Famous last words. Still, Kristen, who had wanted to play the role of Pink Lady Marty, moved on - to soaps. The first three years of her career-defining role of Delia were tough. "A lot of it was very tragic," she says. "I had to cry a lot, which was very hard for me. I was bushed." Instead, Kristen wanted to be making people laugh. "That's the greatest thing you can do. I grew up watching I LOVE LUCY - that was the end all and be all of my childhood."
Fortunately, Delia's tears (mostly) dried up and Kristen was given a freer hand with lending the character levity. That's what she has been able to do from the start with OLTL's Roxanne, a broad in the best sense of the word who might not have aced her final exams in high school, but who's a real connoisseur of brewskis.
And, says Kristen, she doesn't carry a grudge over her last stint in Llanview as Georgina, a role doomed almost from the start. "That was kind of weird," she remembers. She had left Delia to pursue roles out West, then returned to New York and fell into soaps again - but her thyroid problems resurfaced. She'd suffered third-degree burns from a sunlamp and had taken herself off the thyroid medication, with the expected results. "I was abnormal. My neck expanded. I was really screwed up."
Let go, she rebounded into Delia, but was fired again when health problems continued to plague her. Kristen got fed up. "I took my health into my own hands," giving up on conventional wisdom and relying heavily on herbal products, she explains. "I don't think doctors know enough about nutrition. I've been doing this for 11 years and it's changed my life."
Despite the change in her health, however, the soap stints grew shorter, and Kristen investigated other jobs, in other areas, producing other artists. "Not that I wanted to," she sighs. "I had to take odd jobs and do stuff I didn't want to do." When did it turn around? "Two months ago," she grins. "More realistically, it turned around two years ago, because I just didn't give a crap anymore."
Sometimes, that's all it takes. And now, happily at OLTL again, Kristen is getting a chance to show the new school what an old-school character actress can do: Kick butt and make you laugh. "I knew my mind was capable of this," she insists.
With luck, Kristen'll get a chance to stick around awhile. Roxy may never be Delia ... but that doesn't faze Kristen. For one thing, she doesn't even watch the reruns on SoapNet. "I made the decision to stay in the now," she stresses. "I'm in a good zone. Sometimes, [on-screen sidekick] Barbara [Garrick, Allison] and I stare at each other because we feel so blessed. And I start thinking again, 'Wow. They're paying me for this!'"
The Name Game
For the first four years of her professional career, there was no Ilene Kristen. Just Ilene Schatz. The change came about when she was tapped for a role in the 1971 film Preacherman. "It had to do with the union," she explains. "We all changed our name for this movie." So - why pick Kristen? "The agent I was with used to bring in all these Swedish directors," she explains, "and everybody always told me I look very Swedish. I felt very Swedish. And one of the directors suggested [the Nordic name] Kristen. I thought it was pretty. I had never heard it before. So, it stuck."
But she's not entirely free of Schatz, which is how Kristen likes it. "My nickname is Schatzy. [Legendary Broadway choreographer] Michael Bennett used to call me that, and it was like calling a dog. I think that's what he thought of my dancing."
For more of our interview with Ilene Kristen, go to onelifetolive.about.com/soapoperadigest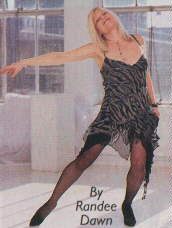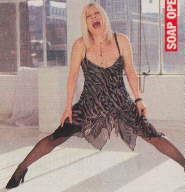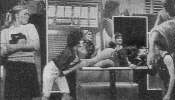 Not a "flop" at all, Kristen (l.)
put her pouty stamp on the
original production of Grease.