On January 30, Ilene sang at Arci's Place in Manhattan. The next month, there were several write-ups and pictures about her act in the soap press: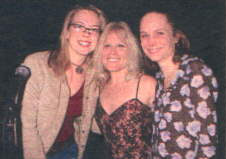 Real Life: Get Up Close and Personal With the Stars
Soap Opera Weekly, February 26, 2002
by Pat Sellers
...The Guiding Light musical revue marked the end of a week of soap-related nights at Arci's that began with an All My Children cabaret on behalf of the Robin Hood Relief Fund. Between the two events, there were evenings featuring "The Wicked Women of One Life to Live" and As the World Turns' divine diva, Eileen Fulton (Lisa). OLTL's Tonja Walker Davidson (Alex), who sings standards, and Ilene Kristen (Roxy), who performs her own "urban-jazzy R&B," divided one show. Tonja, who was up first, summarized the slight schizophrenia of the evening with her opening remark: "You may know me as Alex Olanov Hesser Buchanan Hesser Buchanan. Or as Olivia St. John Jerome. Or you may not know me at all: you may have come here to see Ilene."...
Meanwhile, Ilene, who had hung out at Arci's since the afternoon rehearsal, was the coolest preperformance performer I've ever observed. She sat for a while at a table in the near-empty club studying her OLTL scripts (two days after the cabaret show she taped 60 pages of dialogue for nine scenes in three shows). Then she went for a stroll. Then she had a plate of pasta at the bar while chatting with an acquaintance and, at the same time, mentally writing the last few lines of one of her songs. Shortly before show time she stepped into a bathroom and slipped into the little lace dress she had tucked in her tote. (That frock, she proudly informed me, had won her a "Would You Be Caught Dead in This?" caption in Dressed for Success.) Then, when it was her turn, she rocked the place with seven numbers, four and a half of which she'd written herself. She even played the knives.
It was only after she got home that she got wired, waking up after a brief nap and rearranging the three bouquets of flowers she'd received, plus the large floral arrangement that Fiona Hutchison (Gabrielle), sick with pneumonia, had sent to both her co-stars. Fiona's husband, John Viscardi (ex Father Tony Vallone) attended the show, cheering Tonja and Ilene from a barstool...


Click!
Soap Opera Digest, February 26, 2002
Article Provided By Carol
WOWING THE CROWD
"'It was sold out,' exclaimed Tonja Walker Davidson (Alex, ONE LIFE TO LIVE, near l., with co-star Ilene Kristen, Roxanne). 'We kicked butt. It was terrific. They asked me back already. I don't know when I'll have time to do that. I got a lot of laughs - it's very scary to do live theater. So, you hope people are going to laugh, but you don't know. And I was so grateful that everyone was there and laughing.'"