Pat's Personals
Soap Opera Weekly, April 2, 2002
by Pat Sellers
Among the stars scheduled to attend the <i>OLTL</i> luncheon are: Catherine Hickland, Kassie DePaiva, Hilary B. Smith, Robert S. Woods, Nathaniel Marston, Melissa Archer, and Ilene Kristen (Lindsay, Blair, Nora, Bo, Al, Natalie, and Roxy). Ilene's Friday night musical performances at Arci's Place have been attracting the cast, too (her last one is on March 29). Her original music - much of it to a Latin jazzy-rock beat - is punctuated by some wildly unscripted banter and behavior. At a recent performance, Catherine and Fiona Hutchison (Gabrielle) guffawed when Ilene helped herself to a veal shank off a patron's dinner plate. "I hadn't eaten all day, except for two health bars," Ilene told me in explanation. "Besides, I knew her, somewhat. I don't think I would have done it off somebody I didn't know - although I was pretty hungry..."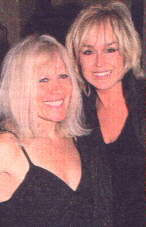 Ilene Kristen (left) and Catherine Hickland
are all smiles on a recent night out.